Tim Boyd has a passion to pursue his God-given dreams. With a heart to serve the people of the Ukraine, Tim says CIU has given him a keen ability to engage the culture with the gospel, and a greater heart to share the compassionate vision of Jesus Christ.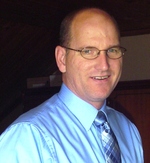 "CIU is helping me follow my passion for ministry
by providing a very welcoming and stimulating environment
to be engaged in both the theoretical and practical
application of mission studies."

Tim chose CIU because of the close-knit community, flexibility of online classes, and the opportunity to be personally mentored by excellent and experienced faculty. Join us for Preview Day and experience for yourself why YOU, too, should be at CIU.

Graduate and Seminary Preview Day: September 6, 2013
CIU Admissions Open House: October 17, 2013

Choose a university that will help you pursue your passion. Click here to learn more.